Józef Stanisław Tischner, nicknames: "Wawrzek Chowaniec", "Molinista", "Józek Szkolny", "elderly gentleman Józek" (born on 12 March 1931 in Stary Sącz, died on 28 June 2000 in Cracow). Born on Sądeczczyzna, spent his childhood on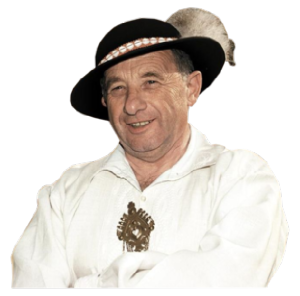 Podhale in Łopuszna, where his father – Józef, worked as the head master of the school, his mother – Weronika from Chowaniec family who came from Jurgów, was a teacher.
After finishing Comprehensive Secondary School in Nowy Targ in 1949 he decided to go to the college. Józef Tischner studied law on the Jagiellonian University for a year. Next in 1950-1955 he graduated in the Theological Jagiellonian University Department. He also finished a higher theological seminary in Cracow. In the cathedral basilica on the Wawel on 26 June 1955 he took holy orders from hands of bishop Franciszek Jop. In seventies he became a well-known figure in the intellectual life of Poland. Tischner showed this period of his life in the collection of essays World of human hope. In articles collected in books Nieszczęsny dar wolności (1993), W krainie schorowanej wyobraźni (1997) and Ksiądz na manowcach (1999) he expressed his views on the question of building the new social order, political, but first of all ethical order. He also continued the work strictly philosophical. Work in which he included his own, original concept, are The Philosophy of Drama) (1990) and The Controversy over Human Existence (1998).
In 1980, accepting the post of the chaplain of the Związek Podhalan, Józef Tischner put for himself for the task "crystallizing the idea of the Polish highland culture". He organised annual masses under the Turbacz Mountain (in the Papal Chapel on Rusnakowa hill), encouraged the development of the highland culture.
In 1980 he began public activity to the wide scale. The sermon on the Wawel on a mass for leaders of trade unions in October (solidarity is to cherish weights, the deepest solidarity is a solidarity of consciences) became a beginning of series of published texts in "Tygodnik Powszechny". Aleksander Kwaśniewski, at the request of the chapter, decorated him with the Order of the White Eagle.
Final years of his life were marked with illness – with cancer of the larynx. His writing at that time concerned with relations of the freedom and favour mercies. John Paul II in the telegram after the death of Józef Tischner wrote: he was a man of the Church, always worried not to lose sight of the man while defencing the truth . He was buried on the cemetery in Łopuszna.
Our school receved the name of prof. Józef Tischner on 28 May 2002. From that day our school is the member of the Tischner's Schools family.